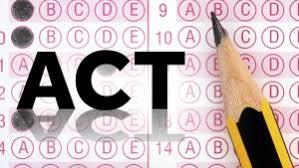 ACT Testing April 14th
Justin Siemsen
Thursday, April 12 2018
Dani Johnson has been in contact with the administrators of the ACT test scheduled for this Saturday. Regarding the impending storm, here is what she had to say:
Several students have been asking about the ACT this week and if it will be rescheduled with the incoming weather. I am hoping you can help me get the word out on this as I really have no idea who is all scheduled to take the test. I know there is several at both schools

From what I have been told the ACT will NOT be rescheduled. I spoke with one of the Professors administering the test and he has been told ACT will not allow it. He has arranged for students to stay at the Days Inn at a reduced rate if students are interested in coming on Friday night to ensure getting to the test. Rates for $69 for a single Queen and $79 for a double Queen. The will just need to ask for the DWU ACT rate. Should ACT decide to allow a reschedule date he will have it announced on all Mitchell radio stations. (As of now he is firm this will not happen but...).

Students do have the option to call today to reschedule thier test to a later date at no charge. It will have to be oved to a prior scheduled ACT national testing date. June 9th or July 14th for this summer. Students can call ACT Student Services at 319.337.1270 (Monday–Friday, 8:00 a.m. to 8:00 p.m. central time). Your registration cannot be cancelled or refunded, but you may reschedule for any available test center on any regularly scheduled test date at no additional charge if you call us by the registration deadline for your preferred test date. Changes made online will result in a Test Date Change Fee.